Choć jest luty, w Kozłówce pachnie wiosną. Ptaki głośno śpiewają, słoneczko świeci. Muzeum też powoli budzi się do życia z zimowego snu. Anna Fic – Lazor pokazuje mi, jak teraz wyglądają pałacowe wnętrza.
- Te kilka miesięcy przerwy to czas na generalne sprząatnie, renowację – mówi. - Czyścimy, pucujemy, naprawiamy, odkurzamy. Każda sztuka porcelany musi być umyta, każdy obraz dokładnie odkurzony. 20 marca przyjadą pierwsi turyści.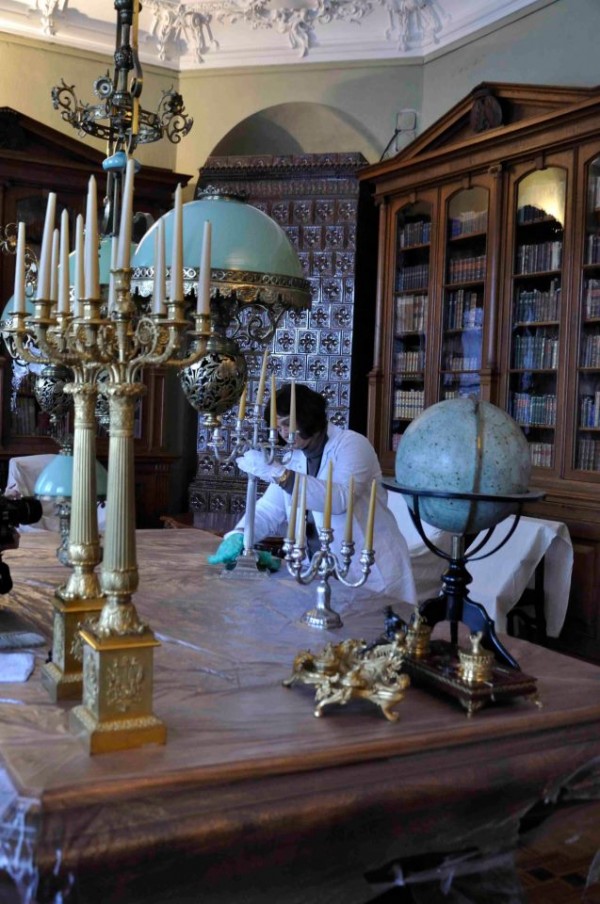 Wielkie porządki
Meble przykryte są pokrowcami, w pałacowych pokojach rozstawia się rusztowania. Nawet sufitowe sztukaterie muszą być odświeżone. Wszyscy pracują w białych rękawiczkach.
- Zupełnie jak w perfekcyjnej pani domu – śmieje się dyrektorka.
Śpią też jeszcze pałacowe ogrody. W sumie 20 hektarów powierzchni. Rabaty bez kwiatów, bukszpany przykryte. Anna Fic – Lazor oprowadza mnie po "swoich" włościach.
- O, w to okno zastukałam, żeby zapytać czy mogę zwiedzić Kozłówkę – pokazuje ręką. - Byłam wtedy na ostatnim roku studiów konserwatorskich. Powiedziano mi, że dyrektor właśnie szuka konserwatora. Czym prędzej poszłam na rozmowę.
I tak została w Kozłówce. Był rok 1986. Od tamtej pory jej życie związane jest z pałacem Zamoyskich. Pracę na etacie zaczęła dokładnie trzy dni po ślubie.
Talent w genach
Jej babcia, której nie poznała, miała zmysł artystyczny. Do dziś Anna Fic – Lazor ma jej piękne hafty. Ona też uwielbiała rysować od dziecka.
- Tylko nie umiałam takich burz malować jak inne dzieciaki – wspomina. - U mnie wszystko musiało być z natury, nie jakaś abstrakcja.
Myślała nawet nad wyborem malarstwa. Ale znajomy poradził konserwację zabytków. - Będziesz miała fach – stwierdził. - A malować zawsze można.
Posłuchała i oddała się nowej pasji bez reszty. Pięknie mówi o tym, jak można odczytać historię przedmiotu czy obrazu podczas jego renowacji, Jak trzeba mieć cierpliwość, no i dużąwiedzę, żeby stanu zabytku nie pogorszyć.
- Wszystkie materiały, których używamy muszą być możliwe do usunięcia – wyjaśnia. - Bo być może kiedyś będzie lepsza metoda i wtedy stary klej czy farbę z poprzedniej renowacji bez problemu można nowym zastąpić. I musi być widać miejsce poprawiane. Żeby nikt nie oskarżył nas później o fałszerstwo.
Bo jeśli ocaleje jedna trzecia obrazu Rembrandta, a konserwator dorobi resztę, to czy to jeszcze Rembrandt czy już nie Rembrandt?
- Im więcej dodatków, tym bardziej oryginał traci – podkreśla.
A wie, co mówi, bo ma na swoim koncie wiele renowacji. Jedna z większych to Święta Trójca w kościele w Radzyniu Podlaskim. Jedna z dziwniejszych – klejenie waz klejem do... zębów.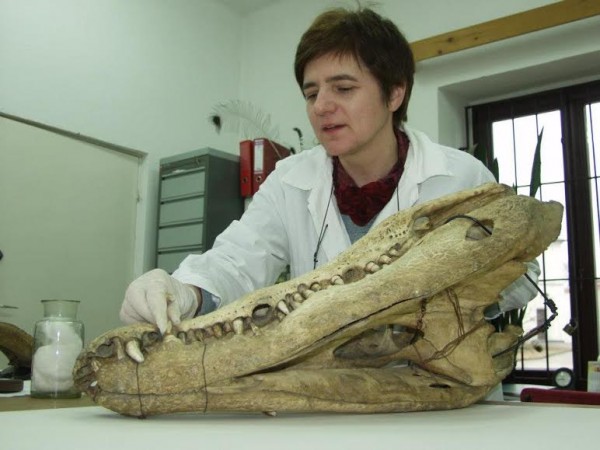 Krokodylowi też zęby wstawiała...
- Moja przyjaciółka Jola Fijałkowska podsunęła mi klej do szkliwa – mówi. - Miałam problem jak porcelanowe wazy skleić. To było dawno temu, nie było zbyt wiele możliwości. Jola jest dentystką. Stwierdziłyśmy, że skoro klej ludziom nie szkodzi to i wazom tym bardziej. Do dziś się trzymają i nic się nie dzieje.
Więc nie żałuje, że zrezygnowała ze studiowania malarstwa. Bo dalej maluje. Nie tylko obrazy. Co roku robi przepiękne kartki świąteczne, które potem są drukowane i wysyłane do znajomych.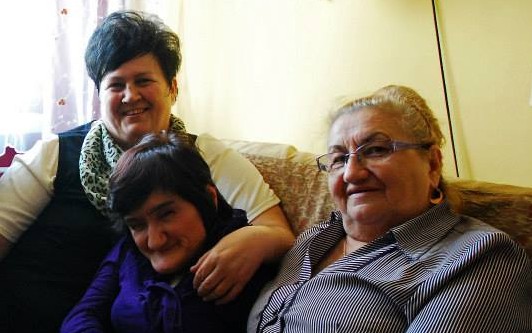 Pocztówka autorstwa Anny Fic-Lazor
Kandelabr i kordegarda
Pałac w Kozłówce w 1899 roku Zamoyscy kupili od rodziny Bielińskich. Później odziedziczył go Konstanty Zamoyski i obecny wystrój pałacu to głównie jego dzieło.
- Spędził dużo czasu we Francji – wyjaśnia moja przewodniczka. - I stamtąd czerpał wzorce.
Stąd ten przepych i wręcz nadmiar i nagromadzenie przeróżnych przedmiotów. To Konstanty położył parkiety, wymyślił bogate sztukaterie, galerię przodków i to on sprowadzał z Francji bogato zdobione meble.
- Trzeba przyznać, że robił to konsekwentnie – podkreśla Anna Fic – Lazor. - Choć ten nadmiar może przytłaczać. Dlatego ja sama mam w domu puste ściany. Muszę po tym przepychu odpocząć.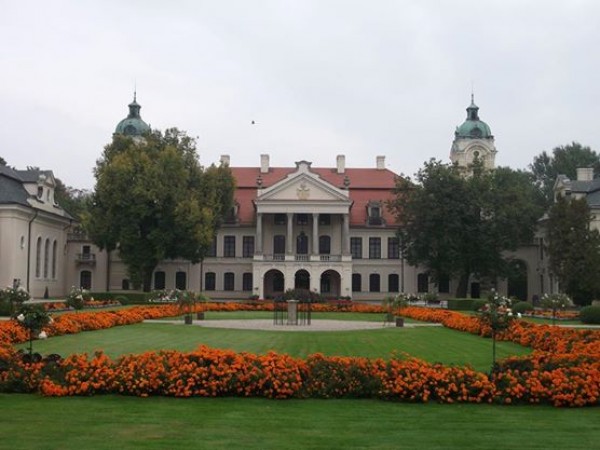 Przez 20 lat mieszkała w pałacu. Dokładnie w kordegardzie, gdzie były mieszkania dla pracowników. Tam też wychowywał się syn państwa Lazorów – Mikołaj.
- Jak był malutki, to znał słowa obce rówieśnikom – śmieje się Anna. - Kandelabr, kordegarda, doskonale wiedział, o co chodzi.
Ale w ślady matki nie poszedł. Został socjologiem i otworzył własną firmę.
Osiem lat temu rodzina Lazorów wemigrowała do pobliskiej Kamionki. Mąż stamtąd teraz dojeżdża do Warszawy, gdzie zawsze pracował i spotykają się wyłącznie w weekendy. W Kozłówce zlikwidowano mieszkania pracowników. Tam gdzie Anna Fic – Lazor mieszkała, jest apartament Zamoyskich wyłącznie do ich dyspozycji.
- Tak postanowiono w ugodzie – mówi. - Zamoyscy dostali rekompensatę finansową za pałac i apartament na wyłączny użytek, tak jak sobie życzyli. Ta ugoda to wielki sukces dla Lubelszczyzny i dla naszego muzeum. Jako chyba jedyna taka placówka mamy do końca uregulowaną sytuację prawną.
Nie zdążyli zniszczyć
Sam pałac i zabytki, które można oglądać ocalały z zawieruchy wojennej i czasów komunizmu. Nie zniszczyli go ani Niemcy ani okoliczni chłopi. Wyłącznie dzięki temu, że już 4 listopada 1944 roku dekretem PKWN kozłowiecki pałac zamieniono w muzeum.
- Jeszcze w czasie wojny mieszkała w nim Jadwiga Zamoyska z dziećmi – opowiada Anna Fic – Lazor. - Jej mąż Aleksander był aresztowany, trafił do Oświęcimia, potem do Dachau. Jadwiga uciekła w lipcu 1944 roku do Warszawy. Zabrała część rzeczy. Na przykład obrazy Matejki. Niestety, wszystko zaginęło albo spłonęło.
Po wojnie Jadwiga Zamoyska wyjechała z Polski. Jej mąż przeżył. Wyemigrowali do Kanady, zostawiając pod komunistycznymi rządami cały swój majątek.
Kozłówka przetrwała wojnę, ale za to później rozgrabiali ją dygnitarze, dbający o wystrój swoich gabinetów.
- Dyrektor Kornacki, mój poprzednik jeździł po całej Polsce i odzyskiwał eksponaty – mówi Anna Fic – Lazor. - Dobrze jak był papier. Ale jedna komódkę w Ministerstwie Kultury wypatrzył. U nas była druga od kompletu. Wróciła do Kozłówki.
Dziś trzeba zadbać o to, co cieszy oczy turystów w pałacu. Dyrektorka podkreśla, jak ważne jest by troszczyć się o zabytki.
- Wiem, że niektórzy uważają, że konserwatorzy zabytków w Polsce przesadzają – mówi. - Ale wojny zniszczyły dużo. To nie Francja, że do dziś w gospodarstwach stoją meble z zeszłych stuleci. A przecież to zabytki określają naszą tożsamość, pozwalają poznać naszą historię.
Kilka wcieleń Anny
Przez wszystkie lata pracy w muzeum podejmowała się rożnych czynności. Konserwacja zabytków, wiadomo. Ale uwielbia też urządzać wystawy, aranżowała wiele wystaw czasowych w Kozłówce, dostawała za to nagrody. Wystawie art deco towarzyszył pokaz strojów z epoki i starych samochodów. Pracownicy byli przebrani, była świetna zabawa.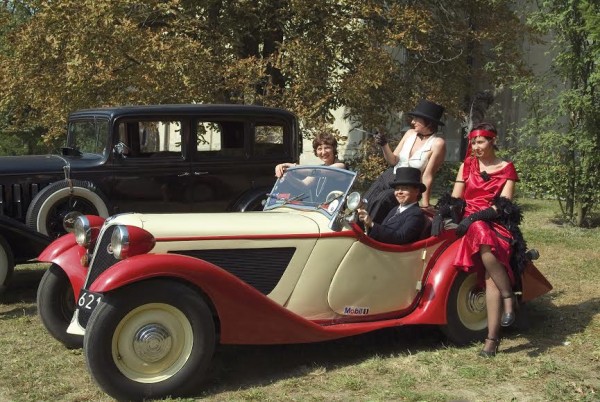 Niecodzienna wystawa. Anna Fic- Lazor w białej kamizelce.
To ona też projektuje kwiatowe gazony, wybiera rodzaj nasadzeń.
- Muszą być zgodne z epoką – podkreśla. - Nie może być na przykład pełnokwiatowych pelargonii, bo takich nie było przed wojną. No i niestety nie mogę sadzić takich, które padają łupem naszych pawi.
Pawie to nie jedyne zwierzęta mieszkające w Kozłówce, są również bażanty, a swego czasu były i kozy.
- Osobiście naszego kozła przygotowywałam na konkurs – śmieje się. - Na złoto malowałam kopytka i rogi a brodę fryzowałam używając suszarki. I wygrał.
Kiedy kozy się rozmnożyły, ona musiała je doić. Wszyscy uznali, że najlepiej się nada. Nie protestowała, bo jak się kocha miejsce, w którym się pracuje i ma dystans do siebie, to wszystko można robić.
Ale ma jeszcze inne poza pałacowe pasje. Robi projekty dla wydawnictw i jako się już rzekło, autorskie kartki świąteczne.
Ostatnio zafascynowało ją wytwarzanie serów. To już robi w zaciszu domowego ogniska. Powstają wędzone sery z dodatkiem czosnku, bazylii, chili, a i wędzoną rybą w domu nie pogardzą.
Domowa wędzarka
Są plany na przyszłość
Konkurs na dyrektora wygrała w cuglach, choć jedenastu kandydatów ubiegało się o to stanowisko. Ale nie dość, że ma Kozłówke w małym palcu, to ma też plany na przyszłość. Do pałacu przyjeżdża około 200 tysięcy turystów. Więcej raczej nie wejdzie, bo zwiedzanie jest w grupach. Więc Anna Fic – Lazor chciałaby dać im więcej rozrywki na zewnątrz. Jakieś gry terenowe, ścieżkę edukacyjną, zwiedzanie powiązane z nauką botaniki, bo w parku są też zabytkowe rośliny.
- Już o tym myślimy – podkreśla. - Chcielibyśmy też uruchomić trochę inny rodzaj zwiedzania pałacu. Na przykład pod kątem oglądania biżuterii na portretach i opowieści o tym, jak się zmieniała w czasie. Chciałabym, żeby były nowe wystawy, żeby Kozłówka żyła, żeby stale coś się działo.
Jest zadowolona, że utworzony w latach 90-tych pawilon ze sztuką socrealizmu stał się prawdziwym hitem. Ale na remont czekają jeszcze dwie oficyny. Jej marzeniem jest aby w jednej powstała elegancka restauracja, sale konferencyjne, w drugiej – pokoje gościnne. Na to jednak musi zdobyć środki z zewnętrznych projektów, bo muzeum na to nie stać. Choć zarabiają, jak mogą. Mało kto wie, że w kozłowieckim parku można zrobić przyjęcie dla gości – jest profesjonalny grill, ognisko, zadaszenie, można zamówić katering.
- Jeszcze kilka wcieleń przede mną – mówi Anna Fic – Lazor. - Ale to dobrze, bo ja żadnej pracy się nie boję.
Magdalena Gorostiza
Zdjęcia archiwum Anny Fic- Lazor i Muzeum w Kozłówce
Zostaw komentarz:
Komentarz od:

~AntonioLudge

zgłoś nadużycie

More again than not, the vigorousness departments give confidential clinics that advance free STD testing expressly HIV but will also put forward tests on other sexually transmitted diseases. STD Clinic (17th Drive Testing and Treatment) std test kit walmart at the Orange County Health Heed Mechanism (OCHCA) offers testing and treatment pro sexually transmitted diseases (STD) and HIV testing.

Komentarz od:

~Gimme a Lift

zgłoś nadużycie

鈽卪ac blooming lovely lipstick Low Price With High Quality k1fm7mk3ER鈽?Eastlocal Marketing Group on Shanghai of China Gimme a Lift

Komentarz od:

~Zweirad Hohmann

zgłoś nadużycie

how to apply mac foundation with a brush Hot Days, Cool Prices OK26epcIdy - Metropolis Zweirad Hohmann
Rozwiń wszystkie komentarze
Powrót